---
Nethack Tourist Guide
Introduction
This is a guide which can be used when playing a tourist in Nethack.
from the Nethack man page:
Nethack is a display oriented Dungeons & Dragons(tm) - like game.
from The Colour of Magic, by Terry Pratchett as quoted in the Nethack Dictionary:
tourist

The road from Ankh-Morpork to Chrim is high, white and winding, a thirty-league stretch of potholes and half-buried rocks that spirals around mountains and dips into cool green valleys of citrus trees, crosses liana-webbed gorges on creaking rope bridges and is generally more picturesque than useful.

Picturesque. That was a new word to Rincewind the wizard (BMgc, Unseen University [failed]). It was one of a number he had picked up since leaving the charred ruins of Ankh-Morpork. Quaint was another one. Picturesque meant _ he decided after careful observation of the scenery that inspired Twoflower to use the word _ that the landscape was horribly precipitous. Quaint, when used to describe the occasional village through which they passed, meant fever-ridden and tumbledown.

Twoflower was a tourist, the first ever seen on the discworld.

Tourist, Rincewind had decided, meant "idiot".
This guide is about playing an idiot in a D&D(tm) like game.
What to expect
Not much. I'm not that good. This guide isn't the result of winning the game and then making a guide instead of starting playing again. It's just my personal guide for playing Nethack, and I always play the tourist. I'm not much into all this D&D(tm) RPG stuff with wizzards and goblins, so when I entered the Mazes of Menace I felt like a tourist and decided to play one as well. I like playing the tourist. I understand the tourist and his items, because I own most of the items in real life too. Both in Nethack as in real life I know how to operate an Expensive Camera.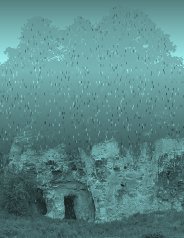 The dungeon entrance near Qr Orzryreoret.
This guide is meant to evolve as my experience increases. The following NetHack Code states my current level:
NH 3.2.2D D Orlando-TM HP:50 Pw:20 AC:-3 N
          [+ )+ P S++ D++ p+++ $++ t+ s++ W+ E- PS PP G+ C+ I+ @Wd(21)
	  N b? !B Y X !So Sp- !sb wb-

If you don't speak NetHack Code: my highest score so far is around 2.700.000 points, 270 HP and making it to dungeon level 54.
Don't expect spoilers in this guide. Well, it could be spoily if you're a newby in Nethack. What I mean is that I haven't ascended yet, so it's only spoily to some (low) limit. I don't use spoilers myself so the tips and hints I give in this guide might not be optimal and sometimes even disadvantageous for you. This guide just describes what strategy and tactics I use to try to get me a bit further than where it got me the last time.
The guide
So you want to enter the Mazes of Menace as a tourist?
Initial Items
from the Guidebook for Nethack 3.2:
Tourists start out with lots of gold (suitable for shopping with), a credit card, lots of food, some maps, and an expensive camera. Most monsters don't like being photographed.
As a Tourist you start with:
10 HP
10 AC
2 PW
not much strength
some darts
some zorkmids
lots of food
Expensive Camera
Credit Card
Potions of Healing
Scrolls of Magic Mapping
Rules of Thumb
Rules of thumb are rules you can follow when you are cruising the dungeons. When you are almost dead it is recommended to break these rules.
quaff every unknown potion you find after a dip attempt: quaffing a potion won't kill you instantly, it is recommended to quaff every unknown potion as you find it, but sometimes it is better to go to a strategic place first where you can have a good chance of knowing what is going on around you, even when you're hallucinating or blind. Have your pet around to protect you.
try to open doors instead of kicking them in: as a tourist you can pick locks with your credit card so eventually you can open all doors. This means you can close them again to block monsters or use standing in the doorway to block the way for your pet. This way you also prevent kicking in a shop's door, and save you the trouble that doing that gets you in.
don't read unknown scrolls: there are some nasty scrolls around that won't make things easier. Try to find a scroll in a shop that cost around 20 zorkmids. This is a scroll of identify that you can use to identify others.
pick up and drop every corpse you encounter: if you pet eats them afterward it treats the corpse as if you gave it like tripe.
don't move while confused: you can easily kill your pet unintentionally.
don't eat old corpses: foodpoisening can kill you instantly.
check chests for traps before looting them.
drop your gold before reading a spellbook.
engrave with unknown wands.
prevent being attacked by more monsters at once by standing behind doorways.This will make your fighting like in Kung Fu movies: you will conquer a large crowd of baddies by eliminating them one after one, while the others are standing around waiting to get eliminated.
blind a floating eye, kill and eat it.
if you see a boulder in a room, move it.
Use your stuff
Pet
With the poor HP and AC you have to work with your pet to get somewhere without being killed. The best way to kill monsters with your pet is to attack them together or attack them yourself untill you're almost dead and then let your pet finish them off. Beware however that your pet doesn't get all the experience. Once your pet is so good at killing monsters it kills them before you can get a shot at it, it's hard to get experience yourself.
Let your pet examine armour and weapons you find to determine if they are cursed. If your pet walks unreluctantly over an item it is probably not cursed. Stuff you don't wear or wield won't stick to you so it is not that important to check them for curses.
Darts
The darts are a good range weapon, so you can take quite some HP of a monster before it reaches you. Beware however that if you don't have that much darts you can run out of them. Make your darts more effective by dipping them into some nasty potion.
Expensive Camera
The flash on the camera is an excellent way to make dangerous monsters somewhat less dangerous. The flash blinds them so their attacks are less effective if they can find you at all being blind.
Credit Card
Use your credit card to pick locks on doors and chests.
Maps
Don't use your maps until you're lost, i.e. can't find a way down. They come in handy in the Gnomish Mines and when you need to get somewhere quick, for instance when you need the protection of your pet but lost it somehow on another level.
Important tasks
Find a helmet
The most important armour is a helmet. Before you are wearing a helmet a falling rock trap or some piercer can easily kill you before you know it.
Find a shop
As a tourist you have money but without shops this is useless. The first sure shops you will find are in minetown, but those are probably to far down to make it there safely.
Find a better weapon
Althought you can kill monsters by bashing your darts at it, a sword of some kind does probably more damage and makes you more skilled in fighting.
Wands
First try to find out as soon as possible what wands do.
zap a wand of speed at yourself and your pets
zap a wand of polymorph at your pet to get more powerful pets
How effective this guide is...
Your guide still dies. Check his bones to meet his remains:
Use at own risk! Many of these bones contain an empty wand of polymorph and a whole herd of polymorphed monsters formerly known as pets, like major demons and dragons.
These bones are only usable on the Win95 port of Nethack.
In September 1998 I had a lucky break playing Nethack and increased my top score to over 200k! The main cause was a +5 scimitar I picked up early on in the game. With this weapon I could destroy most of the enemies with one blow. Other usefull items were a pair of speed boots, and some aligned altars. From a bones level I could use a blessed grey dragon scale mail, and I killed an Aleax and got it's polished silver shield.
With all these things I managed AC-11 and HP117. I got a stone from the bottom of the Gnomish Mines, even managed to kill a Cockatrice and a Blue Dragon and went back to Ankh-Morpork. There I found out I wasn't able to start the quest yet. I needed to get my experience up, but I didn't want to go further down than level 20 because that had swampy places and watery stuff that I didn't really fancy without ESP or a means of staying alive in the water. If I ended up in the water I would really end up in the water.
So, without many things left on the top 20 levels, I thought I could increase my experience by experimenting with sacrificing a unicorn. So I sacrificed a black unicorn on an altar of Offler. So he desintegrated me. 117HP and -11AC gone in the blink of an eye.
This is the log I kept of a game that went particularly well. The only problem was that I got further then I ever was gone, even in discover mode. So in the end I didn't know what to do exactly and made a serious mistake that eventually lead to my death.
Stats
Orlando the Journeyer (Envoy of Balance)
St:18/55
Dx:19
Co:17
In:13
Wi:18
Ch:18
Neutral
Dlvl:32
$:0
HP:136(260)
Pw:99
AC:-20
Exp:21
T:129831
ill
burdened
Bag of Holding contains backup: the +5 Frost Brand, GoP, SoR, Levitation boots.
Vanquished creatures:
Asmodeus
Orcus
Yeenoghu
Juiblex
The Wizard of Yendor (21 times)
Medusa
10 krakens
The Master of Thieves
...
3599 creatures vanquished
Genocided
Liches
Demi liches
Master liches
Mind Flayers
2772899 points
Poisoned by Demogorgon
Adventure
In the beginning it went all rather well, but not extraordinarily excellent. An abundance of coaligned altars, the luck of not meeting any of my bones and a +3 pair of walking shoes made it quite easy to advance through the dungeon. Praying at altars gave me Vorpal Blade. Magic Markers made it easy to enchant weapons and armor.
On Level 25 disaster strikes: somehow a lot of the inventory gets cursed by some monster, including my bag of holding, had to use AoLS. Now I'm left with only a blessed +5 Vorpal Blade, AC-16 and HP82. Strength 18/14. I decide to tame the Blue Dragon (from a polymorph trap) from a quest level and use that to clear the nasty monsters on level 25. Together with that dragon I hunted home and the dungeon for a Potion, made it watery and prayed on a coaligned altar after using a bag of tricks to offer. Got Holy water, went onto level 25 with my dragon and killed the nasties so finally I could uncurse my Bag. Phew!
Lost my Pet Blue Dragon to a fire elemental at the Castle. Got a /oW from the castle and wished for Polished Silver Shield. Already had GDSM from a Water Demon. Used the =oConflict to get through the Castle easy.
After sorting things out back in the Minetown I went back down to the castle and cleared it out. Killing the dragons was easy with Vorpal +5, GDSM, Shield of Reflection and the lot. Never went below 60HP when in battle. Got a potion of gain level from the castle and became 16.
Went back to Minetown to complete my Ascention Kit. Indeed one of the pairs of boots that I dumped there turned out to be speed boots. Hacked a little with potions and scrolls in fountains to use my PYEC and Magic markers to bless and enchant my Armor even further.
Jumped into the Valley and killed a lot of nasties there, several with a Rubber Chicken. Ran back up after a nasty blow from a Balrog. Saw Moloch's priest and altar. What do I do with that?
The most dangerous things I met were fire-elementals and that Balrog. Fire-elementals can be easily killed with a wand of Cold, but when that runs out it's time for a run to the stairs. Used PYEC to charge a wand of lightning. (it didn't charge my markers anymore?) Took out the Balrog with the lightning.
Now I'm standing at the Gate of Gehennom...
Decided I needed some more HP and less AC. Went back to all the shops and sold everything I encountered until the shopkeeper was broke. Converted the altar on the 24 level to Neutral and did some polypiling. Blew up my Polished Silver Shield. Changed the AoPR for AoReflection. Got more HP but now I'm still looking for a new Polished Silver Shield...
Charged my /oW with the PYEC and wished for a new PSS. Also wished AoLS. Got my kit together. First went to the Valley of Death and contributed 12000 to Moloch, then killed the priest with one blow from Vorpal. After picking up my contribution I went back to the Minetown to contibute to my own priest. Went down to get another luckstone from the bottom of the mines. When I came back up I offered and prayed and got crowned Envoy of Balance. My Vorpal went snickety-snack? What's that all about?
Then I made the mistake of sacrificing a human body in the minetown altar. (I still think that dead werewolves aren't humans...) Pissed of the Lady and had to kill the priest. Got a lot of money from the dead priest and went down to level 24, which also has an altar without a priest. Camped there to mollify the Lady. Used PYEC+/oCM to offer a lot. Sometimes I created a nurse, so with a little nurse dancing I had my HP up to 200. Then a little polypiling with potions got me !oEH and Holy water. Used that for HP 235 and then finally went into Gehennom.
Killed everything very easily until a watery level 33. Juiblex swallowed me and I got very sick. Died of it and used the second AoLS. Wished for a new one and then blew up my /oW trying to charge it with PYEC. I understand this Juiblex is a single character and not a species, so I think it's dead now...
On level 45 I met Orcus in the Ghosttown. Death rays didn't hurt me. Saw Sunsword laying around.
Now I'm on level 54 and the floor is to hard to dig in. Is this the time for the use of my crystal ball? I hope so, because I'm running out of food. Because I can't find the vibrating square I decide to go back up. I break in one of the castle-island and activate a magic portal. Kill a lot of bad things and climb the ladders up. I don't know what I'm doing now, but on level 45 I see the Wizard of Yendor. Now what?
I decide to go back down the ladders and up the stairs to the ghosttown. In the ghosttown I meet Orcus again and this time I destroy him. Now I've got a /oDeath. Cool! Get all the food I can and polypile some mimic corpses for more food.
I found the vibrating square. Now what? Read the Faq. I have to get myself a Candelarium and Book of Dead.
6Q: what items do I need at the vibrating square and where do I get them?

You need the Candelabrum of Invocation, seven candles, the Bell of Opening and the Book of the Dead. All the items except the candles must not be cursed.

(ROT13) Lbh svaq gurz jvgu lbhe dhrfg yrnqre, va gur tabzvfu zvarf gbja, jvgu Iynq gur Vzcnyre naq jvgu gur Jvmneq bs Lraqbe, erfcrpgvir.

Gur pbeerpg beqre bs hfvat gur bowrpgf vf gb nccyl gur pnaqyrf gb gur Pnaqrynoehz, gura nccyl gur Pnaqrynoehz vgfrys, evat gur Oryy naq svanyyl ernq gur Obbx. (/ROT13)
Went to level 45 and killed Rodney. Got a book. Now find my Quest Leader to get a Candelabrum. I need the Candelabrum!!! What do you mean by "find it with your quest leader"? Twoflower hasn't given me anything afaik... Read a spoiler. I need to get the candelarbrum from Vlad, who resides in a tower prior to the Wizard. I had to kill the Wizard after the tower. Now the Wizard is killing me. Used another AoLS.
Double Trouble and a Demogorgon! Died from illness...
Map
Level 54: Bottom of Gehennom
Level 51: Magic Teleporter on the island
Level 45: Rodney on an Island
Level 27: Valley of the Dead
Level 26: Castle
Level 25: Medusa's Island
Level 24: Lawful Altar
Level 22: fountain
Level 21: Shop
Level 19: fountain
Level 17: Primitive
Level 16: Ankh-Morpork shortcut
Level 12: Neutral Altar
Level 11: Neutral Altar
Level 10: fountain
Level 9: Oracle
Level 3: Neutral Altar
Level 2: Mine Entrance
At the last check I was:
piously aligned
telepatic
auto-search
fast
cold-resistant
protected
reflecting
magic protected
dead once
Known Scrolls:
identify
genocide
enchant weapon
magic mapping
detect food
detect gold
taming
teleportation
enchant armor
destroy armor
Enchanted Armor
Gray Dragon Scale Mail +4 is maxed out
Vorpal Blade +6 is maxed out
Blew Polished Silver Shield going to +5
---