---
Introduction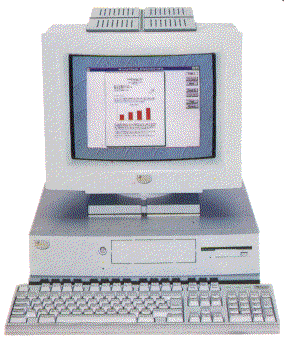 This is what my AMBRA Sprinta 486 looked like. It still looks a lot like this but inside that designer suit a lot has changed:
On this machine I run Windows95 with GNU-Win32, MS-DOS 6.0+, Windows for Workgroups 3.11 + Win32s 1.30 and OS/2 Warp version 3. As main applications I use Microsoft Word 6.0, Quattro Pro 5.0, Vim and some web-browsers.
Very special thanks to Lars Johansson.
Since I added the AMBRA background to this page I felt I had to add the following: This is not an official page, it is just made by someone who happens to own an AMBRA Sprinta and wanted to share his knowlegde of his system with others who might benefit from it. If anyone should think this page has no right to exist and can offer a better alternative, please let me know.
---